Provide a short description of your web page here, using bright bold pre-styled fonts with colors that stand out ... to quickly attract the attention of your visitors.
M. A. Evans Academy
345 Edwards Ave
Macon GA 31204
Maevansschool1@gmail.com
(P) 478.745.0333 (F) 478.745.2080
*All requirements are due at time of registering.
All students must be in the school's uniform beginning on the first day of school and during the school year. *Boys do not have to wear ties daily, but mandatory on the first day of school.
The required dress code includes the following:
Girls

Boys

Blue plaid jumper (only) short of long sleeve light blue


Peter Pan collar blouse
White socks, navy blue or black shoes, shoes can be
loafers, buckle or strap only. No lace up or tennis shoes
White Hair accessories only. No beads in hair.
Stud earrings (silver or gold) only. NO HOOP EARRINGS

Long navy blue pants (no shorts) or long sleeve light blue oxford shirts, with button down collar, blue plaid tie (school's tie)
Navy blue or white socks, Navy blue or black shoes, shoes can be loader, buckle or strap only, no lace up or tennis shoes
NO BRAIDS IN HAIR; Conservative hair cut


<![if !supportLineBreakNewLine]>
<![endif]>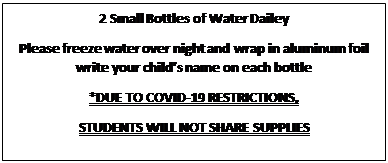 The School Uniforms can be purchased from www.cookieskid.com.Purchaes can also be made over the phone at 1.877.94Cookies(877.942.6654). Please use Code GPSEA When ordering.
Please remember we must have updated contact information at all times. A lack of updated contact information may possibly impact your child's enrollment status. We will be operating under the CDC guidelines at all times We are looking forward to a great school year.
Students are asked to bring a book bag and two (2) towels to be used for linen during naptime. NO ROLLING BOOKBAGS.
We are looking forward to a great school year